Não sou de copiar aqui para o blog algum texto pronto. Mas hoje eu me senti na obrigação de compartilhar este texto delicioso publicado hoje pela Lonely Planet com todos aqueles que dão à gastronomia a oportunidade de se tornar um belo meio de se vivenciar uma cultura.
O foco aqui é viajar, explorar os lugares mais inusitados, e aproveitar para aprender a preparar sua gastronomia, através de pequenos cursos. Achei a ideia maravilhosa, e já coloquei na agenda… Marrocos está na lista da próxima grande viagem… e cozinhar naquelas panelas de barro em forma de chapéu será o MÁXIMO!
Aproveito ao final para divulgar um estabelecimento em Florianópolis, que além de vender as mais diversas utilidades para a cozinha (ESSA LOJA É UM SONHO), possui uma cozinha no mezanino super equipada para cursos. Entre eles estão o famoso churrasco, as comidas italianas como o risoto, e os frutos do mar, típicos da nossa região. Vale a pena conhecer, e acompanhar a agenda de cursos: site de cursos.
Bom, então vamos para aquela básica volta ao mundo gastronômico, ou às panelas!!! :)
Como o texto está em inglês, farei a tradução de alguns trecho em vermelho.
---
Top 10 places to learn to cook the local cuisine
Os 10 melhores lugares para aprender a cozinhar pratos locais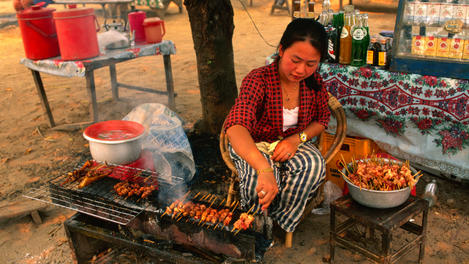 Streetside grill in Luang Prabang
Anders Blomqvist  - Lonely Planet Photographer
One of the best souvenirs you can bring back from a trip is some tasty dishes to share with your friends. Beats a fridge magnet, right? Here are 10 great places to visit if you want to brush up your culinary skills.
Um dos melhores souvenirs que você pode trazer de uma viagem é um delicioso prato para compartilhar com os amigos. Muito melhor que um imã de geladeira, certo? (Eu sempre trago imã de geladeira!). Aqui estão 10 maravilhosos lugares para visitar se você deseja desenvolver suas habilidades culinárias!
Tiny, land-locked Laos is often overshadowed by close neighbours Thailand and Vietnam, but Southeast Asia's most laid-back country also has its own unique and tasty cuisine, especially in the former royal city of Luang Prabang. After rising at dawn to offer alms to saffron-robed monks, learn the secrets of local specialities like jąew bąwng, a condiment made with chillies and dried buffalo skin, and khai phųn, dried river algae fried with sesame seeds. Both are tastier than they sound, and with a cold Beer Lao, khai phųn is one of the world's best bar snacks.
The Tamarind restaurant offers full-day cooking courses in an airy lakeside pavilion. Courses include a visit to the local market.
O restaurante Tamarind oferece cursos de culinária de um dia num pavilhão ao lado do lago. Os cursos incluem visita ao mercado local.
The geographic meeting point of Europe and Asia showcases a cuisine influenced by the Ottoman Empire's historic spread far beyond the waters of the Bosphorus. Get inspired in local markets and restaurants crammed with Balkan flavours from the West, and Middle Eastern influences from the East beyond Asia Minor. Feast on excellent street food like midye tava (stuffed mussels), or fresh fish sandwiches from the Eminönü docks. Traditional dishes include yayla çorbasi (yoghurt soup with mint) and imam bayıldı (stuffed eggplant); the latter translates literally to 'the Imam fainted', an allusion to the legendary positive response the iconic dish received when it was first cooked.
Located in an elegant heritage restaurant in Sultanahmet, Cooking Alaturka runs four-hour courses culminating in a relaxed, shared lunch.
Localizado num elegante restaurante histórico em Sultanahmet, o Cooking Alaturka administra cursos de 4 horas que terminam num relaxante almoço em grupo.
The regional cuisine of Oaxaca is proud and passionate proof there's more to Mexican food than nachos and burritos. The city is renowned to food lovers as 'lugar de siete moles' (the place of seven moles), and different spins on Oaxaca's signature sauce tinged with chilli and chocolate are available in the city's restaurants and markets. Visit the Abastos market for the local breakfast speciality, huevos oaxaqueños– eggs poached in a chilli-tomato soup – andafter a shot of the local mezcal firewater, graduate to chowing down on chapulines (roasted grasshoppers). Oaxaca chocolate is also pretty good if insects aren't to your taste.
Cooking classes at Oaxaca's Casa Crespo Bed & Breakfast, are held in the attached El Teatro Culinario restaurant.
As aulas de culinária na Casa Crespo Bed & Breakfast de Oaxaca ocorrem no restaurante El Teatro Culinário.
With hiking, swimming with dolphins, and kayaking all on offer, you could visit New Zealand's picturesqueBanks Peninsula and easily overlook the region's growing foodie credentials. Visit raffish Lyttelton on a Saturday morning for one of New Zealand's best farmers' markets, or ask about cooking classes and buy Kiwi craft beers at the Ground Culinary Centre . Come back on a Sunday to attend the She Chocolate School at neighbouring Governor's Bay.
Around nearby Akaroa Harbour, the emphasis is on self-exploration, with excellent boutique cheese and wine waiting to be discovered. Located in the former French colony of Akaroa, the Akaroa Cooking School focuses on local, organic ingredients including lots of fresh New Zealand seafood.
No entorno de Akaroa Harbour, o destaque é explorar livremente a região, com excelentes boutiques de queijos e vinhos esperando para serem descobertas. Localizada numa antiga colônia francesa de Akaroa, a Akaroa Cokking School foca em ingredientes locais e orgânicos, incluindo diversos frutos do mar frescos da Nova Zelândia.
Most travellers visit Hoi An to explore the town's colonial history – including Portuguese, French and Japanese influences – or to get a new wardrobe whizzed up by skilled tailors. The sleepy settlement is also a good place to learn to cook Vietnamese food, and local specialities include cao lau, a noodle dish influenced by Japanese soba noodles. A recommended spin is to scatter crumbled bánh da rice crackers on top like Asian-style croutons. Hoi An's riverside night market is one of Vietnam's best, but try to get to bed relatively early so you can explore the town's fish market come daybreak.
Courses at the Red Bridge Restaurant and Cooking School include visits to local farms and markets.
Cursos na Red Bridge Restaurante and Cooking School incluem visitas a fazendas e mercados locais.
Thailand's second city – the 'Rose of the North' – may be gradually enshrouding its ancient walled bones under a cloak of Asian modernity, but it's still very easy to escape the bustle at relaxed cookery schools. Before you sign up, pay a visit to the city's famed night markets for a crash course in Sampling Thai Cuisine 101. The city's renowned night bazaar operates every night of the week, and every Sunday night Chiang Mai's Ratchadamnoen Rd is transformed into 'Walking St'. The gates of the wats (temples) lining Ratchadamnoen Rd are thrown open to become giant alfresco food centres.
First opened in 1993, the Chiang Mai Thai Cookery School includes market visits and courses from one to five days.
Inaugurada em 1993, a Chiang Mai Thai Cookery School inclui visita a mercados e cursos de 1 a 5 dias.
' Tuscany' is pretty definitive shorthand for a sun-kissed holiday surrounded by good food and wine. Italy is also the birthplace of the 'Slow Food' movement, and in Tuscan towns and villages, easy-going trattoria serve traditional dishes packed with olive oil, pecorino cheese, and fresh sage, rosemary and thyme. Many dishes are based on vegetables including artichokes, asparagus and wild mushrooms, and the cuisine is simple and robust. Cooking schools dot the Tuscan landscape, and the best incorporate rustic farmhouses set in relaxed country locations. Look forward to (slowly) discovering local markets and speciality food producers.
Tutti a Tavola offers one- to four-day classes with accommodation provided in Tuscan stone villas set on local vineyards.
A Tutti a Tavola oferece cursos de 1 a 4 dias com acomodação em vilas de pedras em vinícolas da Toscana.
Moroccan cuisine combines Berber, Moorish, Mediterranean and Arab influences to produce dishes including couscous, tajines and spicy merguez sausages. Highlights of Fez include North Africa's most impressive medina (walled city), a riot of colour, sights and sounds from several centuries. For authentic local food without the tourist markup, head to the food stalls near the Jardin Public or the markets near the Bab Bou Jeloud, the main entrance to the medina. Good luck getting that terracotta tajine back home in one piece, and don't leave town without trying a few refreshing mint teas.
Lahcen's Moroccan Cooking combines a morning visit to the local souq (market) with classes in a restored riad (traditional Moroccan courtyard home).
Lahcen's Moroccan Cooking combina uma visita matinal ao souq (mercado) local com aulas num riad (jardim marroquino tradicional) restaurado.
The humble Spanish tapas has taken on the world in recent years, but the planet's best approach to snacking and drinking is still best appreciated in its homeland. In the northern city of San Sebastián, the snacks are dubbed pintxos (literally 'spikes'), and traditionally include octopus, mushroom, morcilla (blood sausage) and anchovies. Wander from bar to bar sampling each location's speciality, and you'll appreciate the gradual evolution of tapas to offer more innovative and modern flavours. Anyone for foie gras in a parsley sauce?
In San Sebastián, El Txoko del Gourmet offers courses from two to five days specialising in tapas andcazuelitas (individual dishes baked in clay pots).
Em San Sebastian, El Txoko del Gourmet oferece cursos de 2 a 5 dias especializados em tapas e cazuelitas (pratos individuais assados em potes de barro.
Good luck in getting a handle on the different cuisines of a country as large and diverse as India, but a good place to start is in the southwestern state of Goa. Shaped by the era of Portuguese colonial rule, Goan food includes chouriço
sausages tinged with a zesty masala paste, creamy bebinca rice pudding and the region's signature dish, spicy vindalho curry (exported in a far inferior form as vindaloo across the world). Try them all on the compact balcony at the Hotel Venite looking out on old Panjim's streets, and the next day try crafting your own versions.
Based in a heritage Portuguese house, Branca's Cooking Classes offer courses specialising in both Goan cuisine and food from other parts of India.
Localizada numa casa histórica portuguesa, Brancas's Cooking Classes oferece cursos especializados tanto na comida de Goa como em pratos típicos de outras regiões da Índia.
Lonely Planet – Best in Travel 2011
---
E se vocês estiver em Floripa, dá um pulo no site da Gourmet Acessórios, e participe dos cursos!
Bom apetite!